ABOUT EBM
Earl Bamber Motorsport or "EBM" is a Kiwi-owned world class customer racing team, currently competing in Asia, Australia, and Europe in Porsche 911 GT3 R and Porsche 911 GT3 Cup machinery.
Owned and operated by two-time Le Man winner, Cadillac Factory Driver, and previous Porsche Factory Driver, Earl Bamber injects his own extensive on-track experience and success into the team. Since its inception, EBM has rapidly expanded, achieving victories in all levels it has participated in, including the highest levels of world GT racing.
Our approach is simple; deliver a manufacturer-level racing experience and performance standard to our customers in a fun and welcoming environment. Only the best, delivered in the best of ways.
MOTORSPORT SERVICES
Our primary service always has and will be, premium motorsport provisions. We provide a bespoke range of offerings including Full Championships, Single Events, Testing, Car Servicing and Preparation and Motorsport Consultations.
TRACK DAYS
Extending our wealth of knowledge from the world of motorsport to you, EBM hosts private track days for driver development and driving pleasure.
We offer a range of levels to suit any driver beginning with open sessions, private tutoring, servicing and eventual private testing with road or race cars.
EVENTS / EQUIPMENT HIRE
EBM has closely worked with manufacturers and brands to execute exquisite driving events for our customers. Providing support, management, manpower and equipment for product demonstration, launches and other promotions.
Enquire now to learn more on our services and products available such as ready Simulators, Helmets & Intercoms, and Hospitality fit outs.
PORSCHE 911 GT3 R
Drivers Earl Bamber, Laurens Vanthoor, Craig Lowndes
Series IGTC - Bathurst 12 Hour 2020
PORSCHE 911 GT3 CUP CAR
Drivers Reid Harker
Series Porsche Carrera Cup Asia 2020
PORSCHE 911 GT3 CUP CAR
Drivers Ben Albano
Series Porsche Carrera Cup Asia (Virtual) 2020
PORSCHE 911 GT3 R
Drivers Will Bamber, Piti Bhirombhakdi
Series GT World Challenge Asia 2020
PORSCHE 911 GT3 R
Drivers Will Bamber, Eric Lux, Gerard Lopez, Tim Müller, Häring Jürgen
Series Creventic 24hr Series - Dubai 24 Hours 2020
PORSCHE 911 GT3 R
Drivers Adrian D'Silva
Series GT World Challenge Asia 2020
PORSCHE 911 GT3 R
Drivers Setiawan Santoso
Series GT World Challenge Asia 2020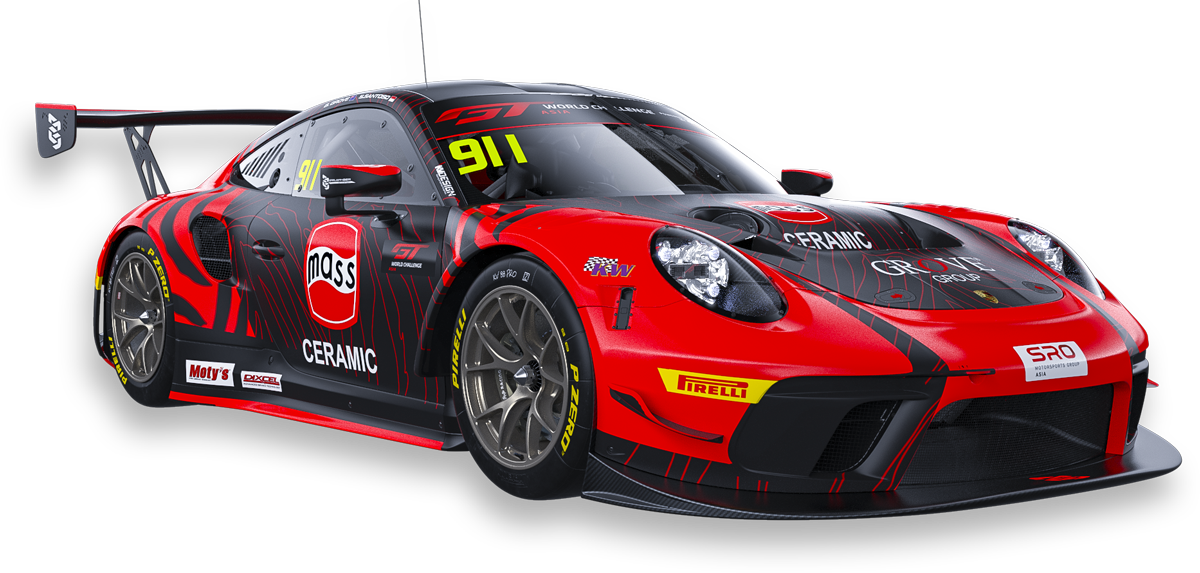 Sportsland SUGO
Sportsland SUGO, 6-1 Sugou, Murata, Shibata District, Miyagi 989-1301, Japan
19 August 2022
-

21 August 2022
More Information
Okayama International Circuit
Okayama International Circuit, 1210 Takimiya, Mimasaka, Okayama 701-2612, Japan
23 September 2022
-

25 September 2022
More Information
Mandalika International Circuit
Mandalika International Circuit, Central Lombok Regency, West Nusa Tenggara, Indonesia
21 October 2022
-

23 October 2022
More Information